Fashion is more than just how you look — it's also about the message you wish to send to the world. With this in mind, BuzzFeed asked 13 activists, bloggers, and other creators how they use style to define themselves in today's America.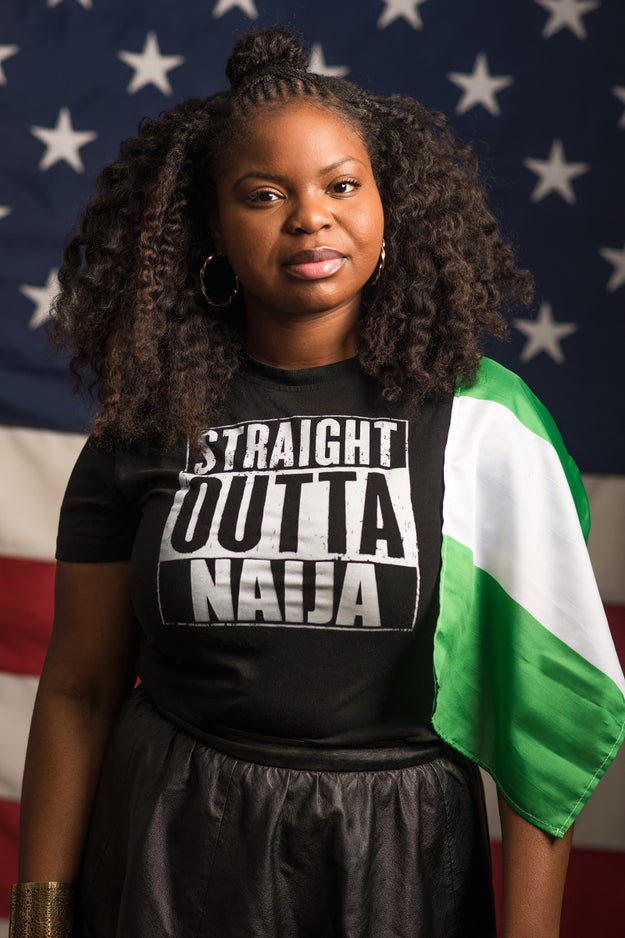 Jon Premosch / BuzzFeed
"I wanted to acknowledge and honor my parents who were immigrants, and who sacrificed their lives in Nigeria to provide better opportunities for me and my siblings to succeed. Their decision to come to the U.S. was made with love, and over the last 30 years, my parents have contributed tremendously to this country. I incorporated the Nigerian flag in my photo because I remember a time when I tried to suppress my identity as a Nigerian-American; I would do things that made me 'less African,' and even desired at one point to change my name to avoid the awkward first day of school stutters and mispronunciations.
"But what I realized as I got older is that it's the cultural differences in everyone that makes this country amazing, and we as a country must continue to encourage others to be proud of their cultures, religions, and sexualities, and to speak out against hatred. I stand here as a proud Nigerian-American who loves who I am, embraces the differences in others, and truly cherishes this country."
Marquis Neal, Social Media Influencer, Blogger, and Body-Positive Activist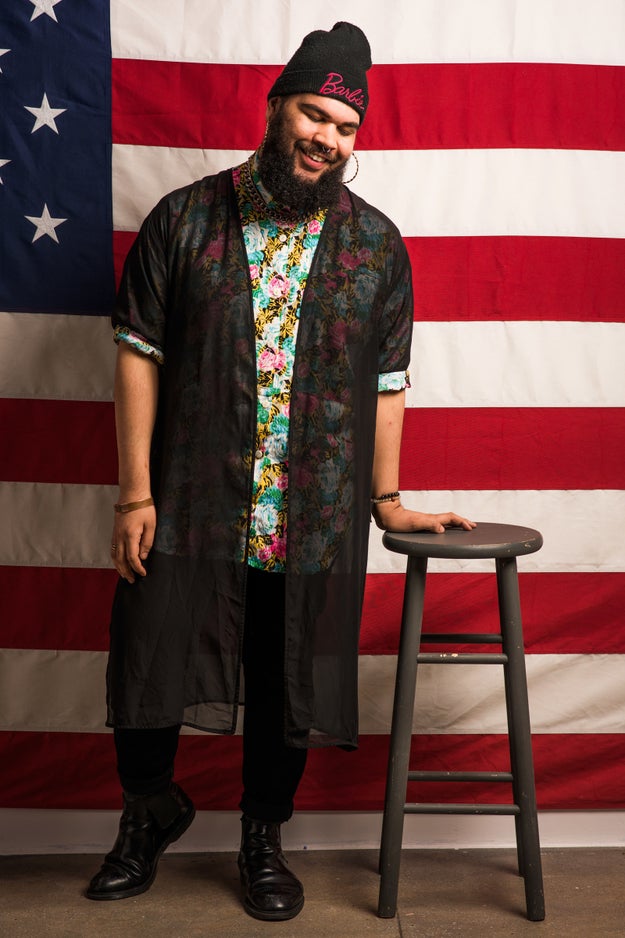 Jon Premosch / BuzzFeed
"The world is pretty hectic right now; everyone I know is a little uneasy. They're concerned that the people coming into power aren't going to allow for self-expression, but that's not an option for me. I have always been very expressive, and I can't let anyone suppress that. That's what makes this outfit political for me — it's still loud, it's still my truth. It might make you wonder, 'Who is this person? Are they a man? Why are they wearing florals? Why are they wearing hoop earrings? Why are they wearing a Barbie hat with a beard? Also, they're fat.' That's a political thing, too, refusing to disappear because of that.
"We have come too far as a country, and as people, to go back. I am part of the LGBT community, I am a person of color, and I don't follow gender norms. I understand why people from minority groups are afraid now to speak out or live their truth, but I plan to continue expressing myself, to take a stand, be louder, be prouder. I, and we, are here, and nobody has the right to keep us from that expression."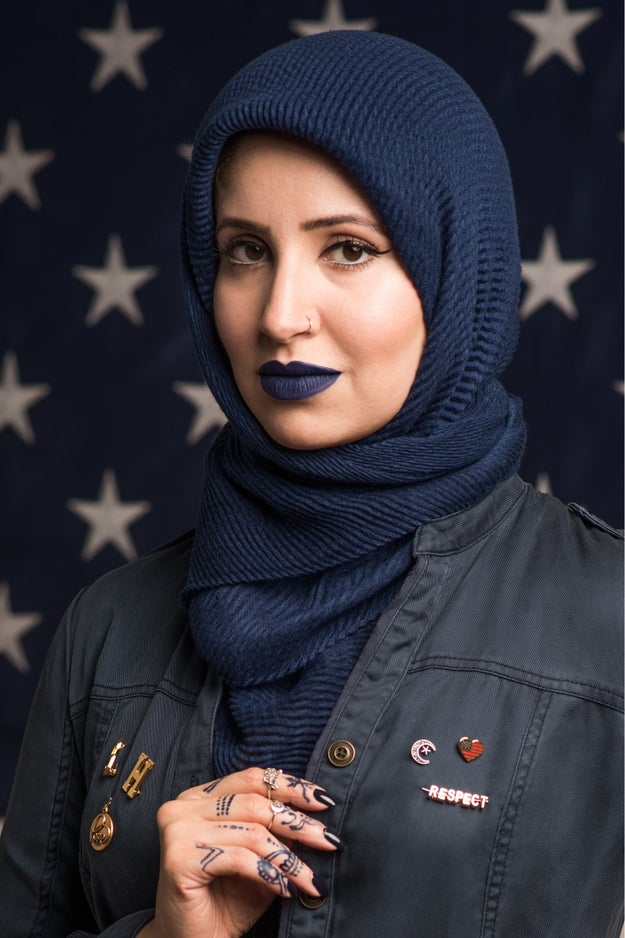 Jon Premosch / BuzzFeed
"I wanted to wear these pins and buttons because they are such an easy form of expression. I have a symbol of love; I have a crescent moon and star which is on the flag of Pakistan, where my parents are from, and is one of the symbols of my religion; I have a heart-shaped American flag; and I have the word 'respect.' Respect is so important right now — it feels like so much that's happening around and after the election wouldn't be happening if people had respect for each other. People are dehumanizing others; they think they're better than others… where we are right now in our society and our interactions is so upsetting. It feels like people are being openly racist because they're following the example of our president-elect. Hate crimes have escalated significantly, and it feels like we are going back a hundred years or more.
"The morning after the election, I was walking past an African American woman, and she gave me this nod of acknowledgment. It wasn't a 'Hi, hello' — it was an 'I feel sorry for you, and I understand what you're going through, because I'm going through the same thing.' I have never experienced that before in my life. My husband said the same thing happened to him. There was an unexpected sense of unity there, which is probably the only comforting thing about this entire election."
Hannah Stoudemire, Fashion Stylist/Influencer and World Activist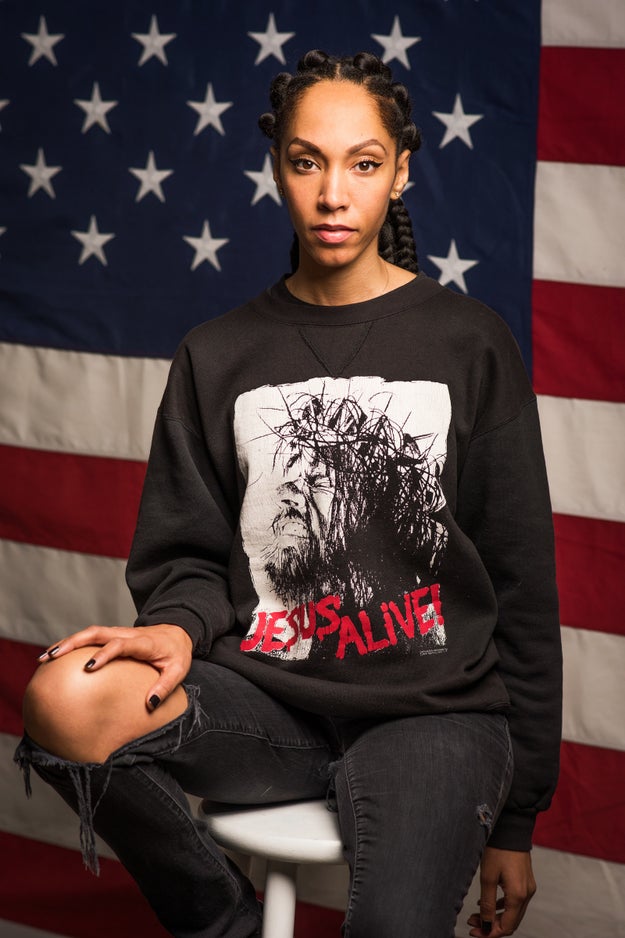 Jon Premosch / BuzzFeed
"I wore this 'Jesus Alive!' sweater because I'm a Christian and an activist, and because I work in fashion. It was important for me to show my faith because I don't find many people in my industry who are open about their Christianity or who practice it seriously. The things Jesus stood for — eliminating injustices, spreading love to everyone — are very important to me. He was the ultimate revolutionary. I'm a huge supporter of Black Lives Matter because until black lives matter, all lives can't matter — and Jesus was for all lives. As far as the election results, I'm not outraged that Donald Trump won nor am I worried about what's going to happen under his administration, because in the end, God is still in control."
Jon Premosch / BuzzFeed
"I'm wearing a pussy-bow blouse as a nod to the pre-election events this year; blue jeans, because America, fuck yeah; and my shoes and hat are red because I am a first-generation American from a Polish background.
"My parents came from Warsaw in the '60s. They were so proud to be Americans. Their generation had pictures of the president on their walls; presidents used to be idolized, but things have changed. There's a lack of trust now, because neither party is working for the majority of people. I think we've embarrassed ourselves as a nation with all of this bickering; both parties really need to take a look at themselves and start working together instead. A lot of us are fed up."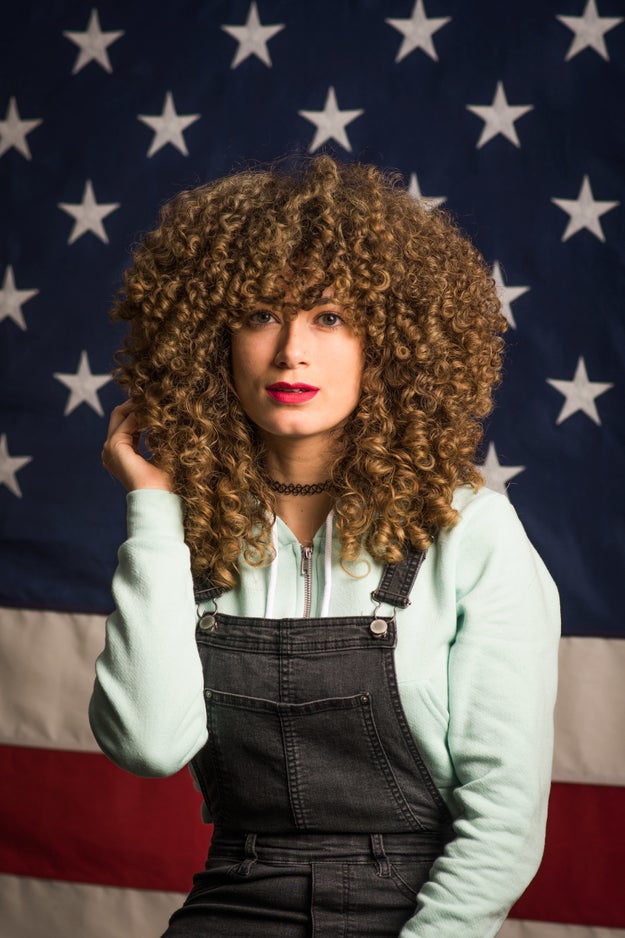 Jon Premosch / BuzzFeed
"I was born in Brazil, but I've been in America for about 19 years. So I chose to wear green, which is a large part of Brazil's flag — but it's a lighter green that conveys how I've been shaped by American culture, too. I know people want to create laws to make immigration an open-and-shut issue, but it's so much more complex than that.Not everybody who comes here is a drug lord. They don't all work in cartels. They're not here to kill or do bad things. It's just people wanting something better for themselves and their families.
"For the longest time, I was illegal in the States. Eventually, I was able to get my papers, but not everybody is as fortunate as I am. I feel like a lot of us have become blind to the fact that those people have struggled, and have created something for themselves here. The DREAM Act was passed for people who were undocumented as children — who were brought here when they were really too little to do anything about their situation — and I feel like we should have more programs in place to help people like that."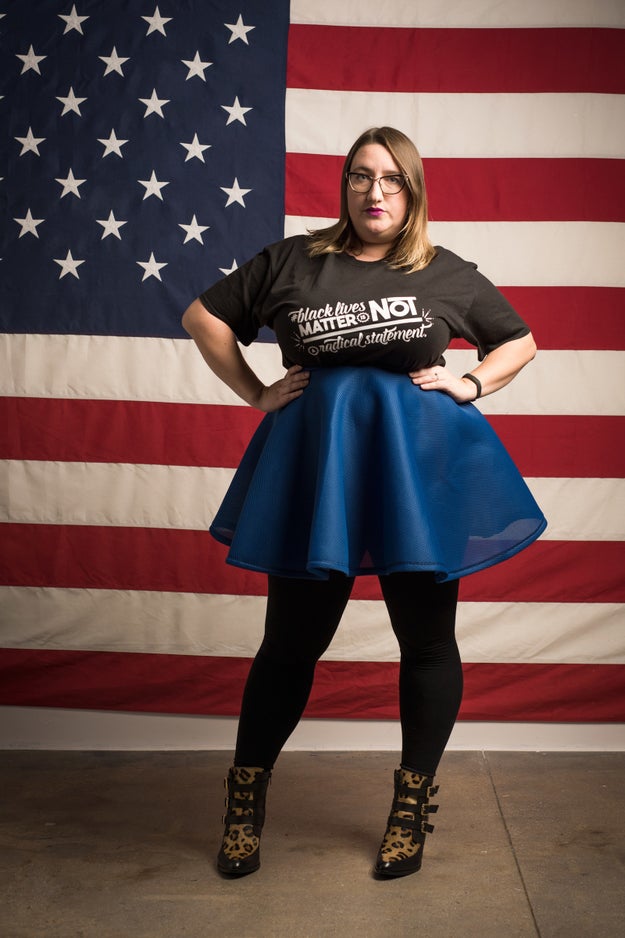 Jon Premosch / BuzzFeed
"There are a few political elements in this outfit: my T-shirt and my skirt. The big, wide, voluminous skirt takes up space, which is political when you consider that women are always told to be smaller. Realizing that I didn't have to spend all my time trying to 'dress skinnier' was huge for me. Also, it's really short because I want to reject the idea that 'fat girls should cover up.'
"The shirt is by @SassyCrass, and says 'Black lives matter is not a radical statement,' which is true. How have we gotten to a point where that causes an uproar? How can you respond to it with anything but 'Yes, absolutely'? It's not #onlyblacklivesmatter; it's not #blacklivesmatterandnobodyelses. I have a lot of privilege; I've gotten a few snarky comments about the shirt, but no violence or more intense harassment. Speaking up about race doesn't hurt me as much as it might hurt someone else, and I don't take that for granted."