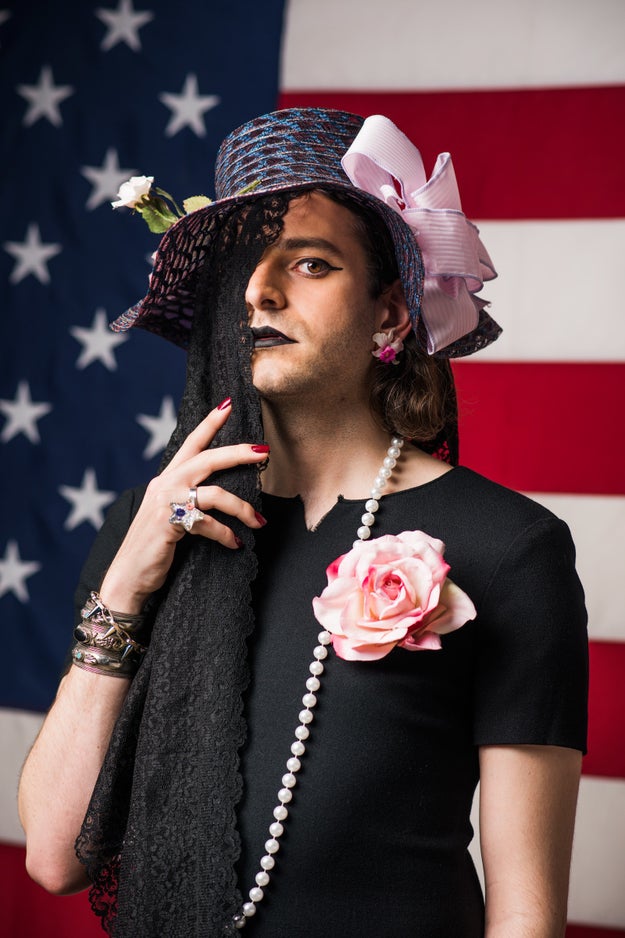 Jon Premosch / BuzzFeed
"My inspiration for this outfit was mourning. I think giving yourself space to process and heal from the past several months is political. So many of my friends have decided to jump immediately into action, without considering where they're at or the emotional impacts of all this, but it's okay to feel a deep sense of loss.
"I use fashion as political resistance, so I've committed to wearing higher heels than ever. Five-inch heels won't cut it in Trump's America; I'm going to need at least nine. It feels important, in moments like this, to double down on who we are; I want to commit to myself that I'm not going to change how I appear or move through the world.
"This veil is my grandmother's, and the flowers on this hat are an ode to Marsha P. Johnson, who wore a lot of them. I find something that's really vital in times like this is to stay connected to your history, and your community's history. The idea that this political climate is entirely new makes it harder to cope with; in ways, it has happened before. This is part of a cyclical flow of social justice: we make progress, and then we have to make it all over again. If we don't keep that in mind right now, it's so easy to lose hope. That's why I find comfort in older things, including clothing — to help remember where I, where we, are coming from."
Jason DaSilva, Filmmaker and Creator of AXS Map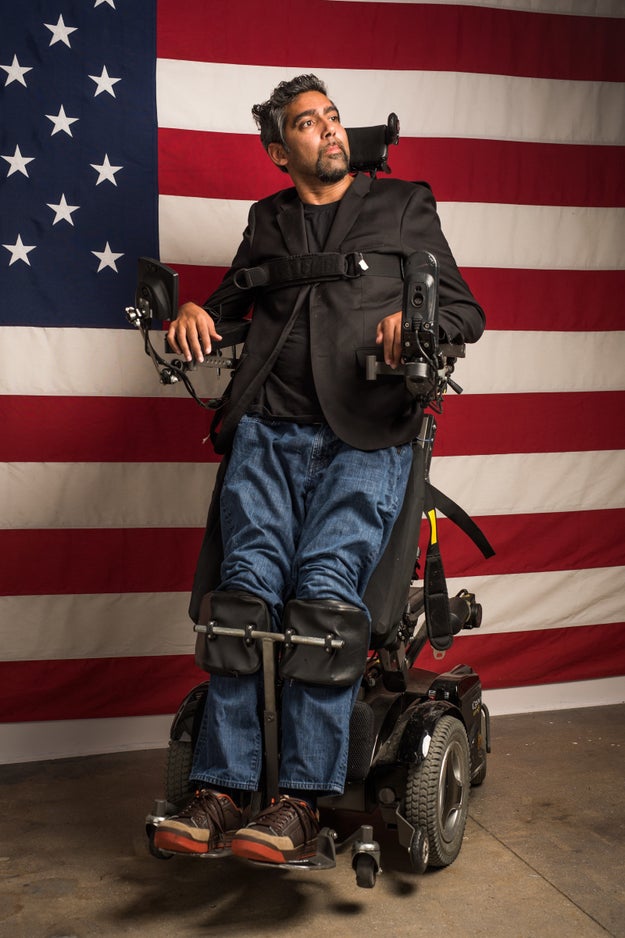 Jon Premosch / BuzzFeed
"I wore this suit jacket for two reasons. One is I just came from the UN, where I gave a presentation on my project AXS Map — it's a map for people with disabilities around the world. The other reason is I wanted to make a point about the polarized system we currently have politically, and how that's reflected in our social and aesthetic polarization. On one side are models, hard-bodied men, people in magazines; then there's the other side — someone with a disability or disfigurement, someone who's overweight, anyone who doesn't fit the image of conventional attractiveness. It's not an even playing field. As I see it, one side gets sex, money, and overall power; one doesn't. People with disabilities are often considered asexual or abnormal, and I'm trying to fight against that.
"All that is to say, wearing a jacket that symbolizes the kind of power and advantage that I don't normally have is a way of turning that structure on its head. It's about the medical versus social model of disability: The medical one suggests all people with disabilities are frail, sick, or belong in a hospital, whereas the social one is informed by the actual people with those disabilities, whose experiences vary more widely, and who should be able to define themselves. Wearing this jacket is punk. It's a reclamation."
Jimmy Levar, Model and Recording Artist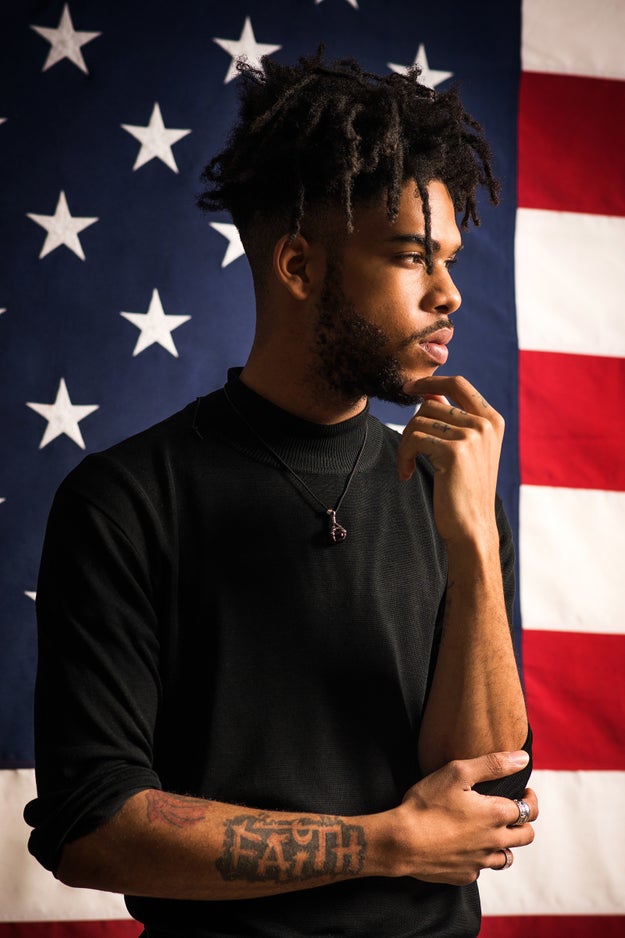 Jon Premosch / BuzzFeed
"I chose to wear all black for its element of mystery; it's so hard to tell right now where the world is headed, or how we got here. We're all pointing fingers at different people, or groups of people, and saying they're the cause of all our problems, but ultimately it's up to us — the public, not necessarily politicians — to collectively drive progress forward."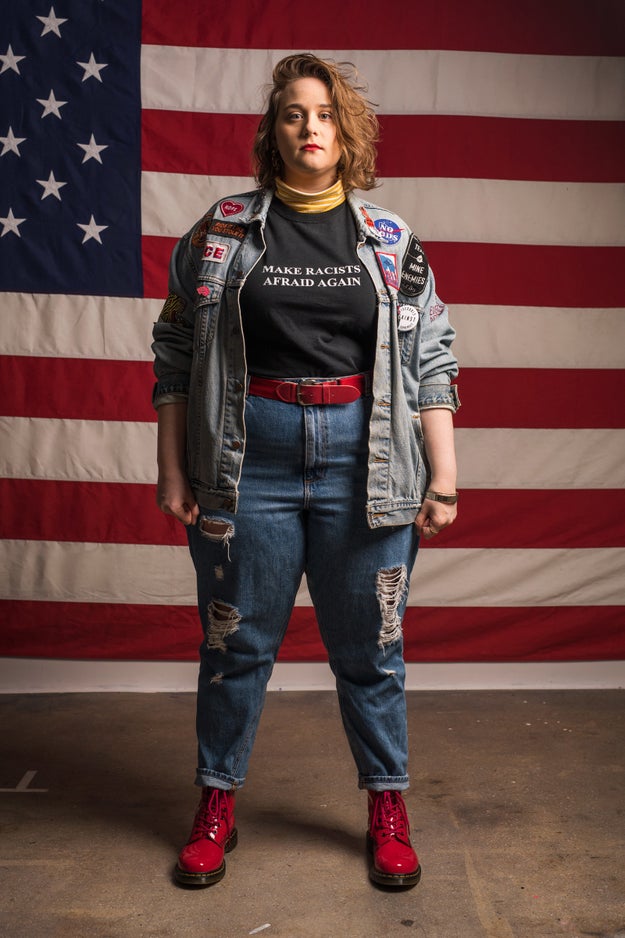 Jon Premosch / BuzzFeed
"After the election, I was so angry, and I wanted to make sure even in my clothing that everybody knew how mad I was. In the past, I've shied away from looking over-the-top; but now, I understand why you'd want to look that way. My purpose in dressing changed from wanting to look pretty — which is one of the big requirements when you're fat, because if you're not always perfectly femme and polished it's read as slobby — to wanting to look like a safe person to be around for women, people of color, queer people, or anyone who's feeling extra vulnerable right now.
"I was waiting for the subway the other day, and some guy was yelling at another guy. The first one went to get physical with the second, and I placed myself between them, which isn't something I realized I would do. I was so shaky for the rest of the day, and I wished I'd been wearing something that had made me feel stronger, so I went out and got these steel-toed boots. I know it's naive to some degree, but I'll take what I can get at this point. I'm dressing for strength now, for myself and for people I love."
Corey Kempster, Trans Femme Advocate, Writer, and Community Builder, and Jarrid Jones, Black Trans-Femme Artist and Fat-Positive Advocate
Jon Premosch / BuzzFeed
Corey: "The way I've started dressing over the past couple of months, I have become my childhood fantasy. I used to do things like put on lipstick at my babysitter's house — but when I'd come out and get laughed at, I'd pretend it was a joke, even though I thought it looked beautiful. Now I wear dresses, and color, and have long, loud nails. But at the same time that I'm feeling free to express myself, my existence has become a political talking point. Using pretty much any public bathroom at this point is so uncomfortable — I have to think, 'Will this be dangerous? Am I going to make people uneasy?' So I can't say I was surprised by this election; I already knew we had so much work to do.
"I bought this dress from a store where the sales associates were so rude to us, just gawking at us, and I was so upset. But I'm still so glad I bought it, because I feel beautiful when I wear it, even if it represents something that the majority of people in this country don't approve of. It makes me feel so happy in a way I almost can't describe, which is its own kind of resistance. This is how I want people to see me. This is my most authentic self. I have never been more me."
Jarrid: "My outfit is about queerness, blackness, and fat positivity. Right now especially, I want to give representation to people who embody these qualities — for the girl who doesn't have passing privilege, who can look at me and see masc and femme and know it's okay to be that. For black youth growing up like I did, even with a pro-black family, always straightening my hair at the encouragement of my white friends and insisting that I wasn't 'one of those loud black kids.' I put on a facade just to navigate the world, which was really damaging — but I eventually learned to fully embrace my blackness. It's the same with fat positivity; I only really learned about it by removing myself from working in the theater and fashion industries, and discovering these beautiful, empowered fat people online who provided representation for me.
"The fight against equality, racial and otherwise, has been here all along, but it's more public now. Now, I want to build an army of people who don't fit inside certain social standards, who are fiercely loving and protective of each other, and who are saying 'We're here, and you can't put us back into a box. We're not going to let erasure happen.'"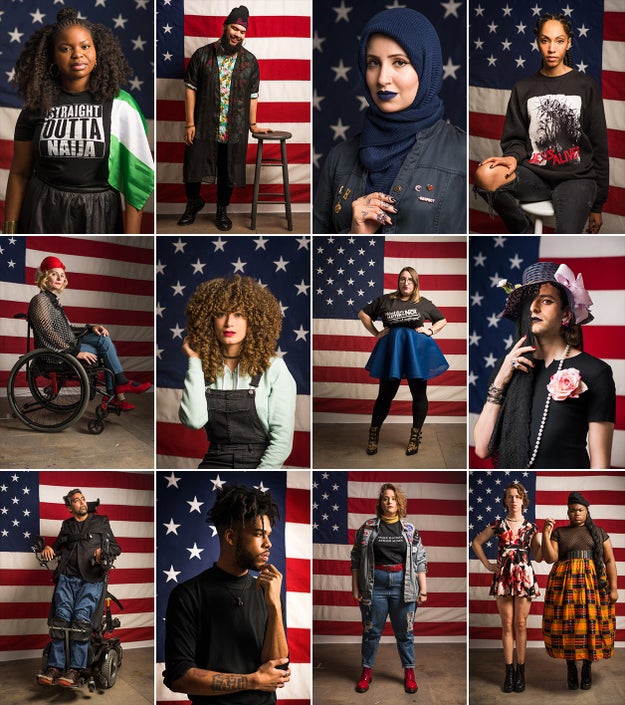 Jon Premosch / Charlotte Gomez / BuzzFeed
Credit Buzzfeed