Here are some easy ways to save money on your wedding…
1.

Maybe don't book your photographer for the ENTIRE wedding.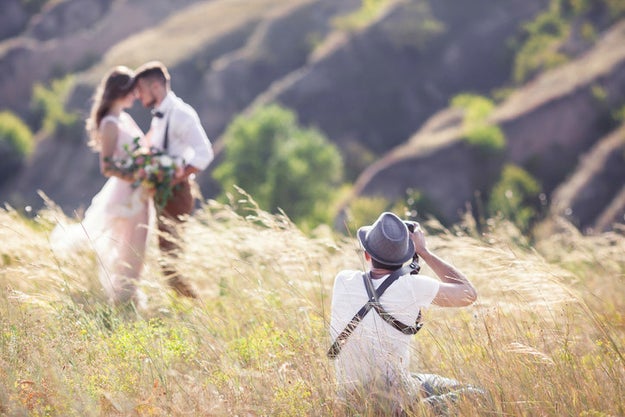 Erstudiostok / Getty Images
Everyone knows that wedding photographers cost $$$. One easy way to cut back on cost: have the photographer shoot for the most-jammed packed hours of the wedding instead of the entire event. Because do you really need 2,500 photos of your in-laws?
2.

If you're getting married on a farm, see if the owner can sell you flowers or greenery at wholesale prices.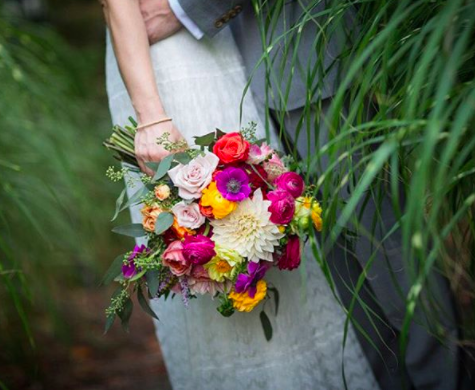 There can be some perks to getting married on a working farm, like the fact that there are fruits, veggies, and flowers GALORE. See if your venue owner will sell you flowers at a subsidized rate. Or maybe they'll even give your caterer the hook-up for the freshest greens ever. Another benefit of having your wedding on a farm: built-in ambience and scenery. It can cost a lot of money in decorations to give that ~cool~ warehouse a *wedding* vibe. You want to ensure your guests don't feel like they're attending a wedding in a big meat locker.
3.

To save money on rentals while maintaining a *fancy* vibe, go for upscale disposable napkins.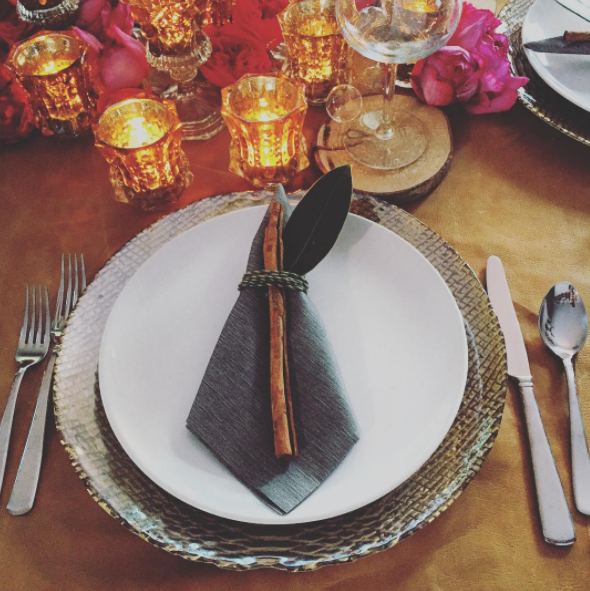 If paper plates feel tacky as hell to you, stick with porcelain but get a deal on the napkins. The Napkins makes single-use premium napkins that look and feel like textiles. SERIOUSLY. The first time I held one, I couldn't believe it wasn't made of fabric.
They come in a range of colors and a pack of 50 costs $32.
4.

Another rental hack: Do paper plates and cups for dessert.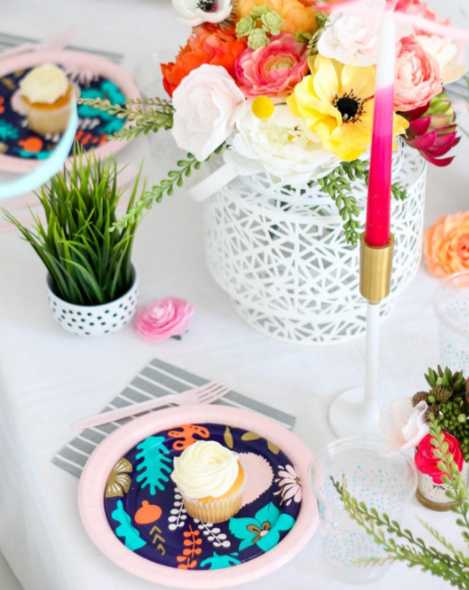 "When I look back at my own wedding 13 years ago, the things I remember are the special spontaneous moments that were unplanned, not what kind of dishware we used," Stacey Penlon, caterer and the owner of Beacon Pantry in Beacon, New York, told BuzzFeed. Plus, brands like Cheeky offer super cute designs that are WAY more fun than standard white dishes. Whitney Port will be launching a limited edition, disposable tableware line with Cheeky on March 27th in Target stores and online. It looks too cute for words.
You can get a pack of 40 plates from Cheeky for $3.
5.

Looking for a beautiful dress? It doesn't have to come from a bridal store.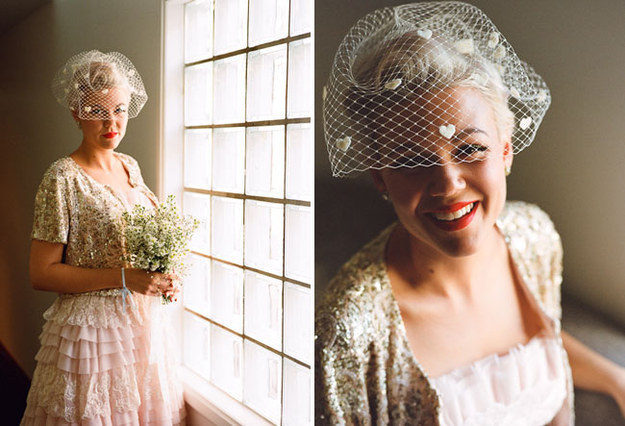 "I had found my dress on eBay years ago, and purchased it because it was such a bargain and too good to resist," bride Pia told Green Wedding Shoes. "It was an original '50s prom dress with beautiful fluffy layers of pink and cream tulle and lace." Another option: Look at higher-end shopping sites (like ShopBop) where you can search by color. Since the gowns aren't designated as ~wedding dresses~ they tend to run a little cheaper.
6.

If you need to give yourself a *hard* budget when it comes to your wedding dress, shop from a brand that keeps all of its dresses under a certain price point.

Floravere

Worried that you'll step into Kleinfeld and instantaneously start foaming at the mouth, demanding a Pnina Tornai? Consider brands that literally WILL NOT let you spend over a certain amount. For example, new online bridal boutique Floravere features on-trend wedding dresses that all cost under $4,000. Look through their website to find your fave dresses, and they'll ship them to you to try on at home (no awkward dressing room stares here). Every gown is made to order, so you can customize things like train length, sleeve length, and waistlines.
7.

To save money on staff for your wedding, opt for some super cute signs.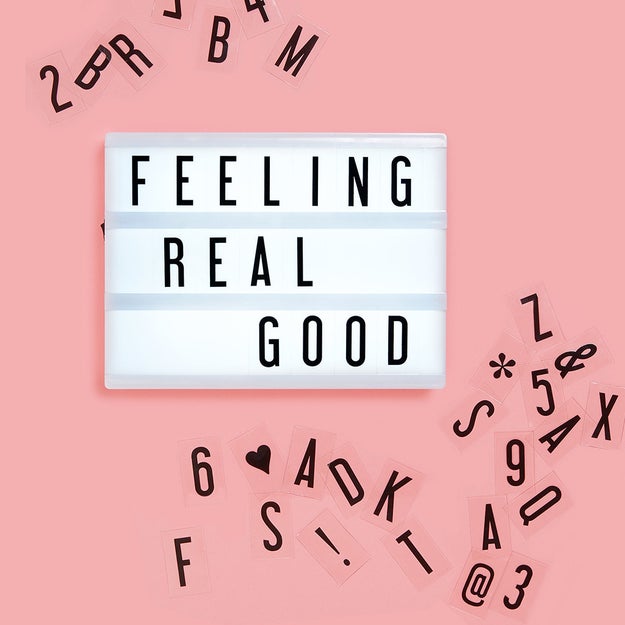 Worried that you might be short on hands to direct the ~flow~ of the wedding? Get a few cute signs and stash them around the venue with messages like: "Pour yourself a drink," and "Take a selfie in our DIY photo booth." This will let guests know what's going on without you having to pay a human to tell them.
Get this light-up sign from ban.do for $30. You can even buy rainbow letters for $13 to coordinate with your color scheme.
8.

You don't NEED a wedding cake.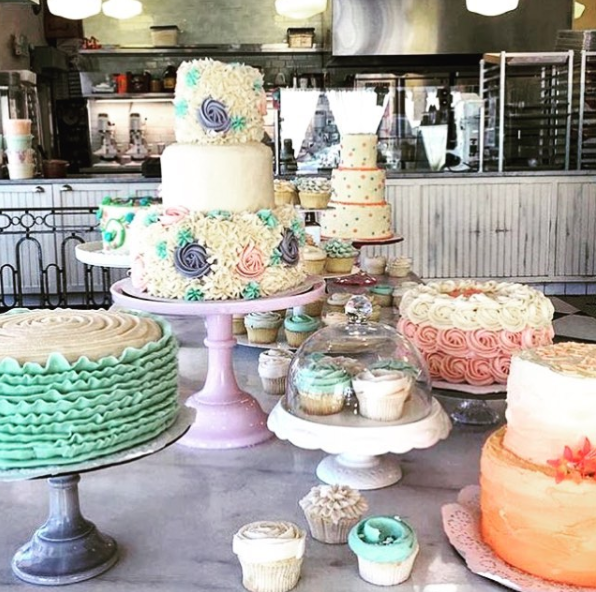 Instead of dropping some serious dollars on a tiered wedding cake, get a few simple and pretty cakes from your favorite bakery. Buy a few different flavors so your can guests can pick their favorite. For me, NYC-based Magnolia Bakery TAKES THE ENTIRE CAKE. It's the best dessert you'll ever have.
9.

Invest in a selfie stick.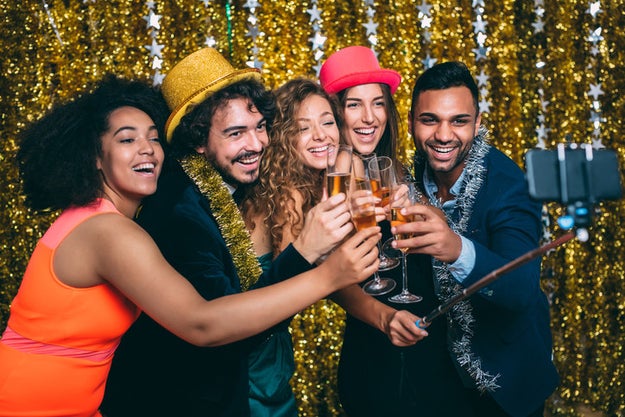 Todor Tsvetkov / Getty Images
I'm sure you know ALL about DIY photo booth backdrops (odds are you have a Pinterest board dedicated entirely to tutorials — if not, here are some ideas). The key accessory to making it go off without a hitch: a selfie stick. I know you normally wouldn't be caught dead carrying one of those things around, but for a wedding it's handy AF. Just leave one or two at the photo booth and your guests will know what to do with it.
You can get one from Walmart for $4.88.
Now, go on and get *married*.